Remember this crazy guy? We interviewed him back in February, weeks before he set out to beat the standing Guinness World Record for the fastest crossing of America on foot. It would involve pounding the pavement for some 3000 miles and change in less than 45 days. It's been a few months since we spoke to Adam and a lot has transpired. We decided to check in with him and see how the race of his life went.
---
Where did you start the race and where did you cross the finish?
We started the race in Huntington Beach, CA, and ended in Tybee Island, GA.  My wife's grandparents actually brought along some checkered tape so I could cross a "finish line" and head into the ocean!
In the end, how many miles did you clock? And how many days were spent on the road?
We finished with 2,484 miles over 60 days.  Five of those days were taken off for different reasons, so with 55 days of running we averaged just over 45 miles per day.
What was the most inspiring part of the experience? And the most grueling?
The most inspiring part of the journey was the support and encouragement we received from our followers. It was so uplifting to witness people across the nation and all over the world giving their time, resources, and prayers to help us in any way they could.  The most grueling part of the experience was fighting through all the injuries I was experiencing.  Some days I was forced to walk for 16-18 hours, and that was very physically and emotionally draining.
At what point did you realize that breaking the Guinness World Record was unlikely? 
About three weeks in.  That would have been about the halfway point if we were going to break the record, and we were getting too far behind on the miles.  Our crew kept saying "if your body recovers, we can really start to cover extra miles." Unfortunately, my body never improved enough to make that happen.
How did you stay motivated to continue?
As I mentioned previously, we drew a ton of inspiration from our community of followers.  They lifted us up in so many ways, and reminded us that our journey was about much more than just breaking a record.
What determined when you would take a rest day?
We ended up taking only three rest days, as two of our days off were taken off for our friends' wedding.  Our initial plan was not to take any rest days, but we took those three rest days early on because my physician recommended that we end the run.  Rather than end it, we decided to take a few days off and reassess our situation.  Fortunately, we were able to continue on!
Did you stick to any specific rituals or traditions while running?
Every day was different!  Normally I have my routines during races and while I'm running, but this was such a different beast.  For example, I typically never listen to music when I'm running, whether it's at a race or in training.  On this journey, I needed music and podcasts to pump me up and help keep me going!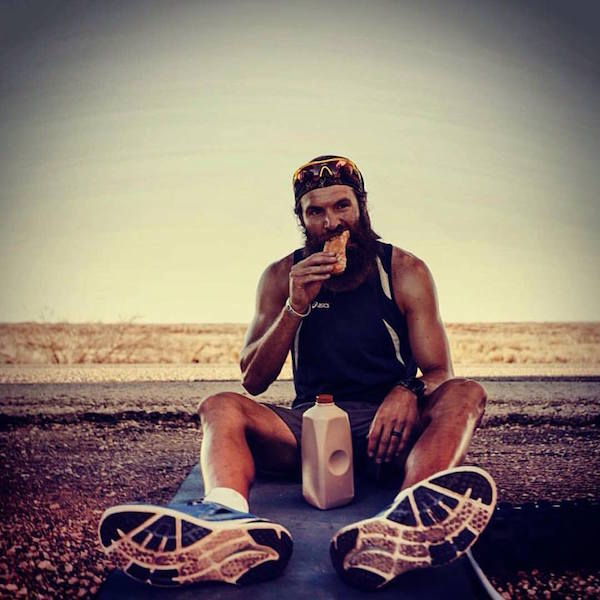 How did you stay nourished during the race? (This isn't just shameless self-promotion. We're genuinely curious—what kind of caloric intake does one typically need to crush 50+ miles a day?)
The short answer: I just kept eating!  I averaged an intake of 6,400 calories per day and still ended up losing twenty pounds over the two months we were out there.  It seemed like I couldn't eat enough.  Thankfully, I had the support of Fireside Provisions and other sponsors to keep me fueled during the journey!
Would you attempt something like this again? And if so, what would you do differently?
As crazy as it sounds, I would give it another shot!  The main thing I would change is a having a more in-depth medical plan.  We dealt with injuries as they came, but it would have been really helpful to have a physician with us at all times to work on me.  Next time, if there is a next time, we will have a physician on the crew and have pre-planned visits to other clinics along the route.
We imagine that you got to pass through many beautiful landscapes and probably quite a few quirky towns. Any standout experiences?
When I think of the landscape, New Mexico instantly comes to mind.  We ran past the White Sands National Monument, a beautiful area in the middle of the desert with vast dunes of white sand.  It seems to appear out of nowhere!  We also reached the highest elevation of our journey in Cloudcroft, New Mexico, at about 9,000 feet.  Running up to the peak of the mountain, we ran through snow and saw the first trees that we had seen in weeks!
What's next for you? Anything on the race docket?
I've begun motivational speaking and coaching, and am really excited to build upon those opportunities.  I have a handful of races on the schedule for this year, including a 50-miler in July (to be determined) and the Pine to Palm 100 in September.
---
We were thrilled to support Adam in his attempt to break the GWR and know big things are in store for him. Check out what Adam is up to for all your ultrarunning needs (or just a dose of inspiration). Well done, Adam!